Bottled With Care For Shipment To The World's Finest Restaurants – And You
Founded by Battista Bodei in 1906, the Fonte SOLÉ Bottling Works is managed to the highest quality standards by Battista's grandson, Giuseppe Bode. It was Giuseppe who years ago made the prescient decision to bottle SOLÉ exclusively in glass – for greater sustainability, purity and elegance.
The entire SOLÉ bottling process is a hermetically sealed system; safeguarded to be clean, safe and efficient. Compliant with all international and Italian legal requirements, Fonte SOLÉ performs numerous quality assurance tests in its on-premises laboratory to ensure the maintenance of microbiological purity. For more than a century, the SOLÉ Bottling Works has been an important employer and social works mainstay of the Nuvolento community.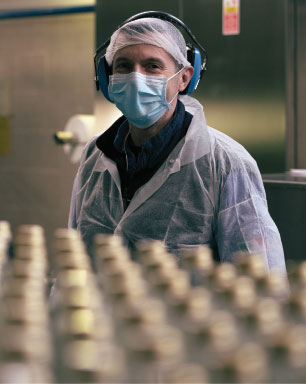 It continues to play an important part in Nuvolento community life.
The Quality Management system of Fonte Sole conforms with the standard UNI EN ISO 9001-2008. Click here for certificate.